November 07, 2022
Schletter Group with a strong third quarter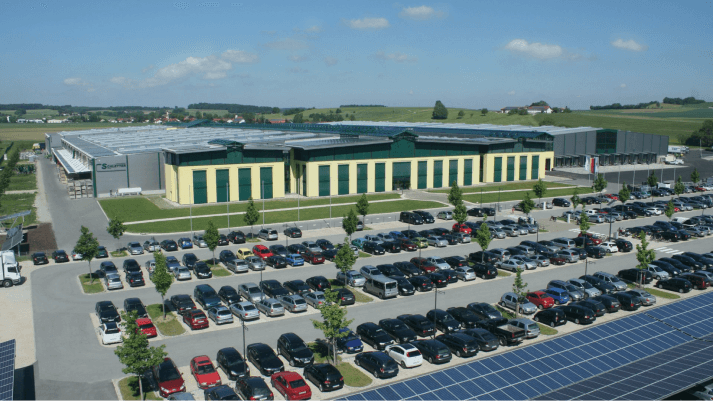 Kirchdorf/Haag, November 7, 2022. The globally active solar mounting system manufacturer Schletter Group grew significantly in the third quarter of 2022. Compared to the same quarter of the previous year, sales rose by 130 percent from 40 to 92 million euros – the highest quarterly figure in the company's history. A number of new large-scale open-area projects in Europe, Asia and Central America contributed to this.
"Our product and supply chain strategy, which we have pursued in recent years, continues to be strongly reflected in our corporate figures," emphasized Schletter Group CEO Florian Roos. For example, Schletter now has a flexible global supply chain that allows the company to supply several major projects at once if required. In addition, there has been a good response in the market to the new and further development of the successful Schletter open-area systems, in particular the Schletter Tracking System 1P (1 portrait) and 2P (2 portrait).
Currently, a whole series of large open-area projects with Schletter systems are under construction, including 160 MW in Austria, 200 MW in Germany, 50 MW in France and 130 MW in Bulgaria. In Bulgaria, Schletter is also currently building a 30 MW plant with its newly developed Tracking System 1P. The single-axis tracking system is optimized for use with a large-format solar panel module. Thanks to its compact design, it has a particularly favorable ratio between material weight and electric power yield. In the Dominican Republic, Schletter is currently supplying its Tracking System 2P for a solar park with 100 MW. In South Korea, one of the country's largest solar power plants with 120 MWp is being built near the city of Seosan on the Schletter FS Duo system. Among other things, the high corrosion resistance of the system played a decisive role in winning the contract for the project located directly on the sea.
The Schletter Group aims to continue its significant growth course. In September, the company placed its first corporate bond on the capital market, thereby tapping a new source of financing for the further expansion of its business. Within this context, Roos thanked Schletter CFO Andreas Rode, who is handing over to Martin Lipp. "With the successful placement of the bonds, we have initiated a new stage in the company's development," says Roos.