April 12, 2022
Schletter Group showcases material optimized mounting solutions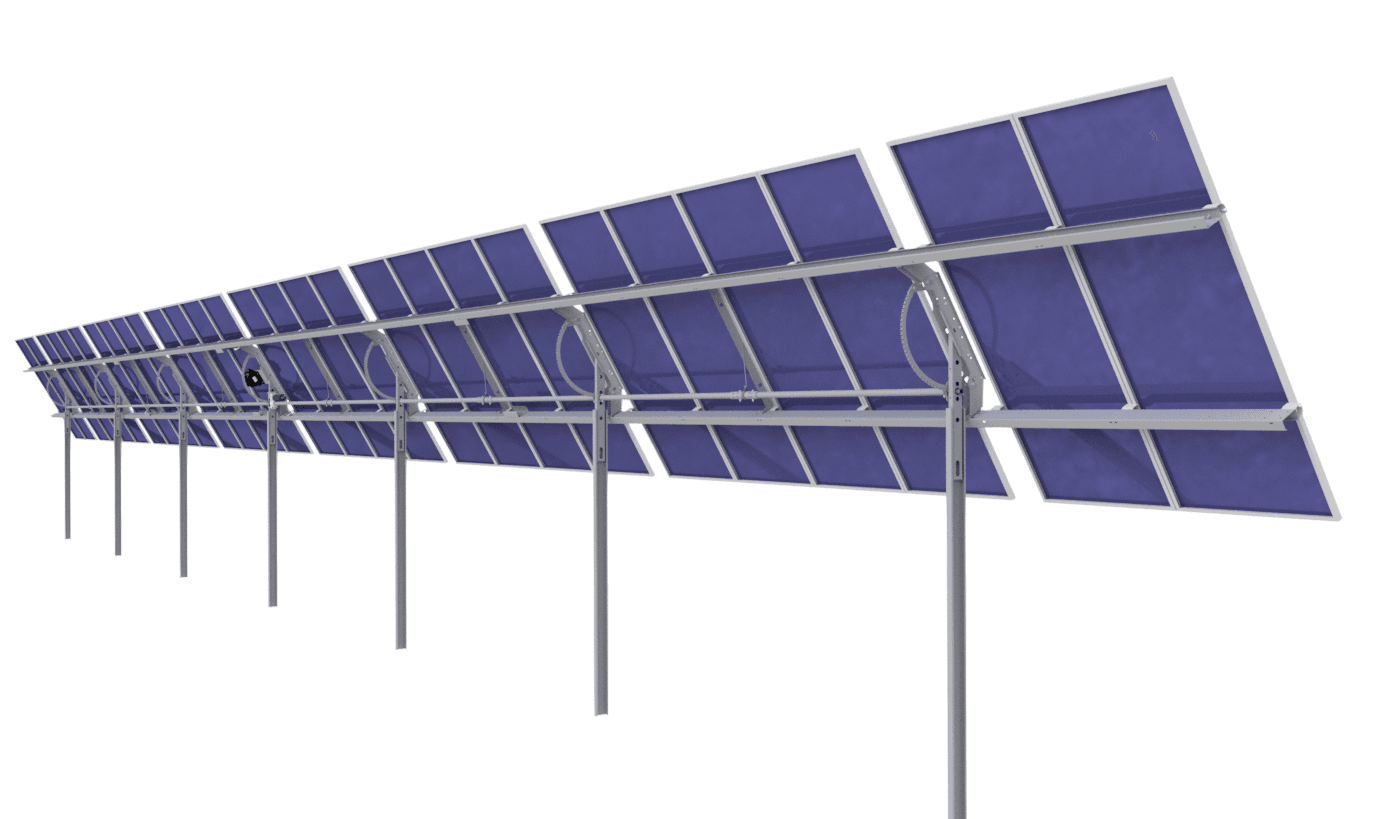 Kirchdorf/Haag, April 12, 2022. The globally active solar mounting system manufacturer Schletter Group is presenting its latest products and solutions at Intersolar 2022 in Munich. The focus is on maximum efficiency – in terms of material usage and mounting time.
"Less material with the same or better load-bearing capacity and fast mounting on the construction site – this is a common thread running through our product development," emphasizes Schletter Group CEO Florian Roos. "At Intersolar, we will be showing how we make that happen, across our entire product line: from our ProLine pitched roof system, to our FixGrid Pro flat roof system, to our open-area and tracker systems."
High load-bearing capacity and fast mounting: the Schletter ProLine pitched roof system
With the ProLine pitched roof system, a new profile geometry allows for significantly less material usage than with the current Schletter standard profiles. At the same time, the profile can cope with higher loads. The ProLine profiles can also be installed without tools using a single internal connector, which saves time and costs during mounting. A new cross-rail connector ensures a structurally resilient installation.
To complement the proven roof hooks made of stainless steel and high-strength structural steel, Schletter has added two aluminum roof hooks to its range. The lightweight "EcoA" and "RapidA" roof hooks offer an additional option to optimize projects and save on installation costs. At Intersolar, the company will also be presenting the new RapidA 35 roof hook, which has been specially developed for lower roof battens. The important thing is that all Schletter roof hooks are compatible with both the Schletter standard mounting rails and the new ProLine rails. This is ensured by a pre-mounted, rotatable multi-adapter.
The "Rapid Pro" module clamp, which is matched to the new profiles, is also characterized by its simple, fast installation. Following the principle of "one size fits all", it can be used in future to fix all standard module sizes with frame heights of between 30 and 47 mm. The fully pre-assembled clamp is clipped into the upper groove of the profile and then fastened.
More flexibility, less ballast – the enhanced FixGrid Pro
The FixGrid Pro flat roof system requires less ballast thanks to enhanced aerodynamics. For example, with the optimized FixGrid Pro in east-west orientation, the maintenance aisle is not located between the lower edges as before, but rather the upper edges of the angled modules. "Our wind tunnel tests have shown clear aerodynamic advantages resulting from this, which can save up to 10 percent ballast," explains Manuel Schwarzmaier, Sales Manager for Roof Products at the Schletter Group. "It also makes mounting the modules and wiring them much easier."
In addition, the Schletter developers have further optimized the system according to modular logic, making planning and installation more flexible and faster. Instead of different module supports depending on the angle of inclination, module size or type of configuration (upright or horizontal), all variants can now be realized with just a few universally applicable components. "Our new FixGrid Pro always allows an optimal support and clamping position for the module – no matter what the angle or size," Schwarzmaier emphasizes.
Open-area and tracker systems: less material per kilowatt of power
The Schletter Group will also be showcasing its open-area systems at Intersolar. This includes a new variant of the Schletter Tracker, which has been specially optimized for easy configuration with large-format modules. The compact system uses less material per kilowatt of power and is around 30 percent lighter than comparable models on the market. "This is a very crucial point at the moment, especially due to the high logistics and transport costs," explains Christian Salzeder, CSO Projects at the Schletter Group. The version called "1V" (one vertical) has the same design advantages as the current Schletter Tracker. Thanks to a mechanical self-locking mechanism, it is as stable as a fixed installation and can withstand wind speeds of well over 200 km/h.
All Schletter open-area systems have also been optimized with regard to the latest requirements of the market. This means that all systems can be fitted with bifacial modules for optimized yield. In addition, they have been adapted so that the latest large-format modules can also be installed on them, in both horizontal and vertical configurations. These are complemented by new coatings that further extend the service life of the mounting systems.
The Schletter Group will be exhibiting at Intersolar Europe in hall A6, booth number 160.