May 04, 2023
Schletter innovations at Intersolar 2023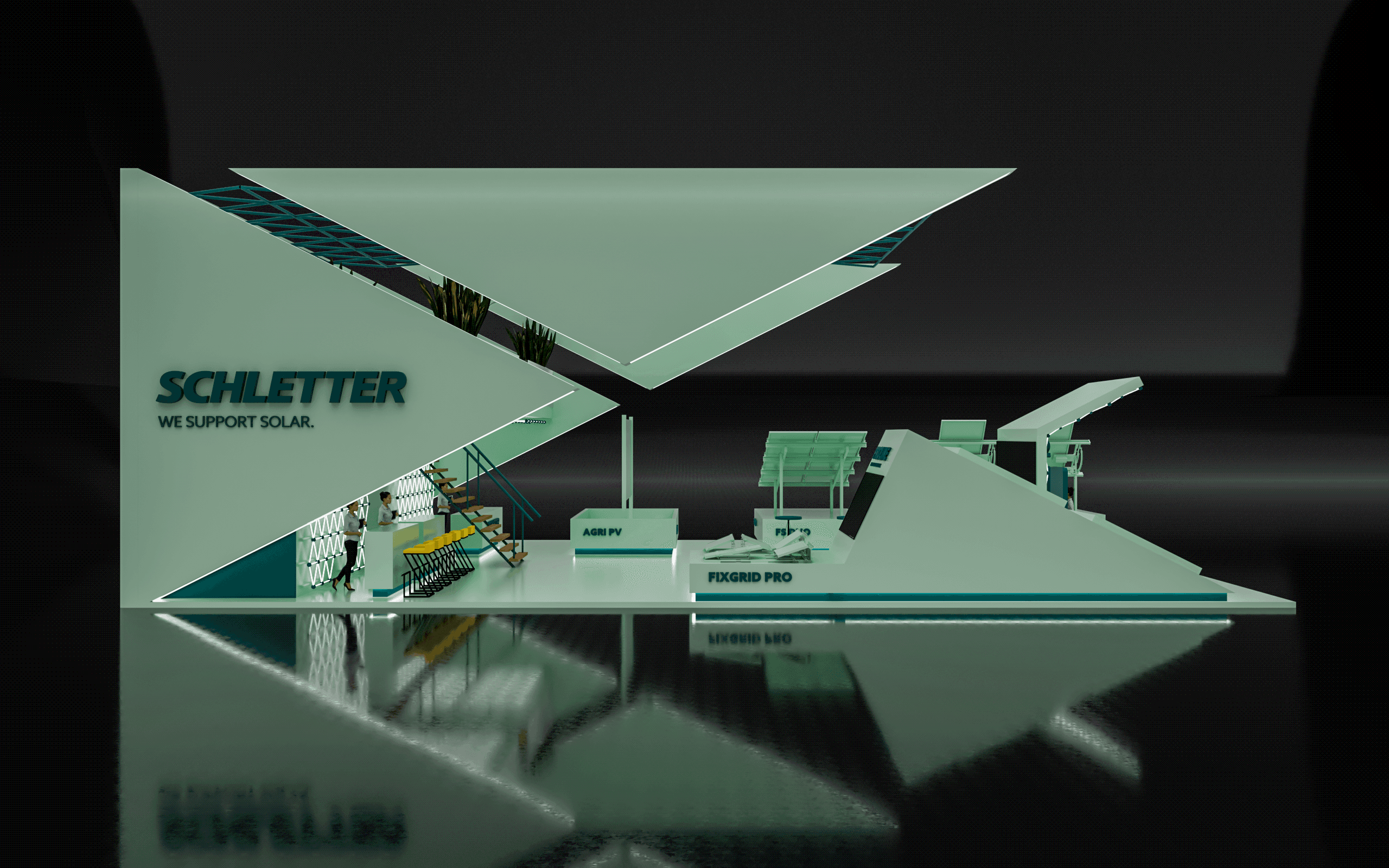 The Schletter Group will present a completely newly developed Agri-PV system at Intersolar. It is a system in which bifacial modules are mounted vertically in rows. Ramming profiles are driven into the ground, between which the modules are inserted directly. One of the distinguishing features of the system is that the modules are fixed between the profiles with freely movable clamps. This allows the system to compensate for elevation differences in the terrain profile and is equally suitable for flat and hilly terrain. The system is also fully flexible when fitting modules: The frame distances can be chosen in such a way that all module formats up to XXL modules can be used.

Schletter has also further optimized its 2V Tracking System for Agri-PV applications: A revised gear arch extends the swivel range of the single-axis tracking system from 60 to 78 degrees. This allows the modules to be moved to an almost vertical position. This facilitates agricultural work between the rows and reduces the space required. "Agri-PV is an important and very rapidly growing market. With two system variants, the Schletter Group is in a very strong and broad-based position in this segment," stressed Dr.-Ing. Cedrik Zapfe, CTO of the Schletter Group.

In addition, Schletter is once again offering a solar carport to further support the trend towards e-mobility. The system can be anchored in the ground with concrete foundations or micropiles. A newly developed, single-support carport will also follow shortly. This enables parking in a herringbone pattern and therefore even better utilization of parking areas.
"Flexibility and cost optimization were the main focus in the further development of our existing systems," stressed Cedrik Zapfe. For example, Schletter is presenting new, freely movable connecting elements between purlins and supports, as well as module clamps for its open-field systems. Instead of prefabricated holes or holes laboriously drilled on site, the system offers a completely flexible choice of clamping and connection points. This enables the use of all module sizes, and reduces planning and assembly work, which reduces installation costs – especially in high-wage countries. In addition, there is an end clamp that can be screwed on from below. This allows the clamps to be conveniently fixed in place at the top of the module panels without the need for the installers to climb onto the modules. This makes the work much easier, especially with the XXL modules currently installed. Improved cable routing for ground-mount systems and the introduction of the FlatGridPro flat roof system that runs parallel to the roof round off the presentation.
Schletter will exhibit from 14 to 16 June 2023 at Intersolar on Stand 180 in Hall A6. We look forward to your visit!