PROLINE
UNLIMITED POSSIBILITIES
Improving the efficiency of solar installations remains the driving force in the PV sector. Our new ProLine series meets the requirements of tomorrow's mounting systems by using less material and offering better load-bearing capacity, simplified planning, improved handling on site, and optimized installation times.
Using these requirements as our goals, we engineered the ProLine series, a new generation of solar mounting systems for residential and industrial roofs – now also available in black.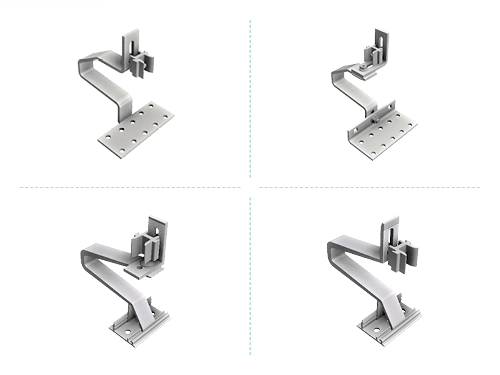 PROLINE
ROOF HOOKS
Improved adjustability, stability and weight
Higher load capacity due to new profile geometries
Fast and flexible mounting by simple click-in
Quick mounting adapter comes pre-assembled
No pressure on the roof tile
Adjustable height up to 30 mm with Rapid roof hooks
Compatible with Schletter's Classic and ProLine profiles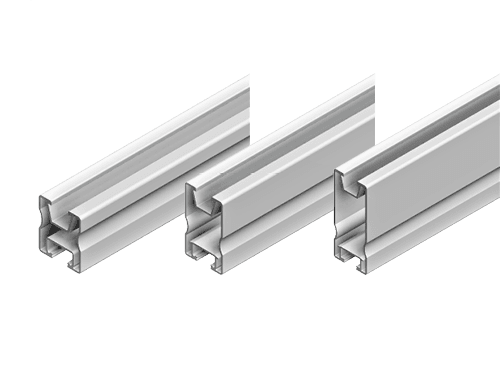 PROLINE
RAILS
Aluminum EN AW-6063 T66
Reduced material with improved stability
Optimized geometric basis
Module bearing rails available in various lengths: 3300 mm, 4400 mm, 5500 mm, 6000 mm.
Module bearing rails available in three different construction heights: 35 mm for smaller spans, 50 mm for medium spans and 70 mm for large spans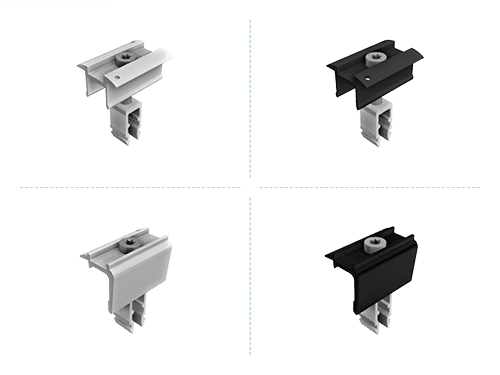 PROLINE
MODULE CLAMPS
One size fits all: One middle and end clamp fits mounting module frames between 30 - 47 mm
Designed for all ProLine module-bearing profiles
Claws can be rotated and are therefore suitable for both vertical and horizontal (linear) module clamping
Pre-assembled for quick installation
Built-in grounding function with integrated grounding pin
Available in bright and black anodized aluminium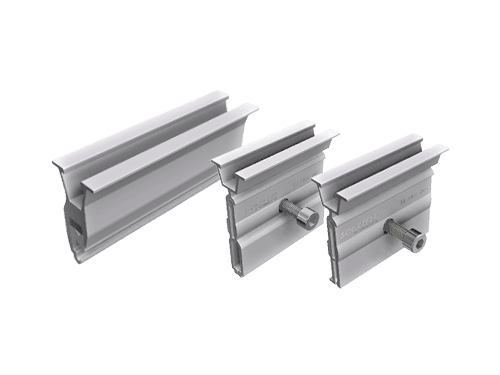 PROLINE
SEAM CLAMPS
For mounting on standing seam roofs
Fast and direct fastening
For a wide range of sheet metal seam roofs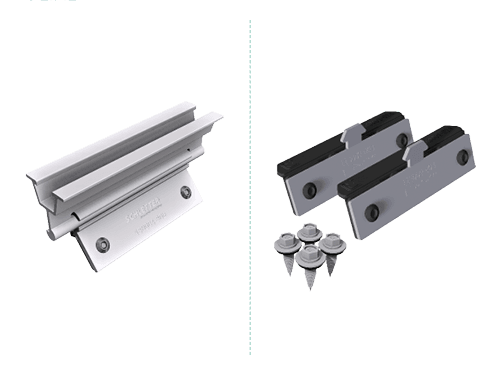 PROLINE
SHEET CONNECTORS
For mounting on trapezoidal sheet metal roofs:
ClampFit Pro: Flexible adjustment options thanks to joint axis; compatible with ProLine module clamps
SingleFix Pro: Compatible with the ProLine series and Classic Schletter solar mounting system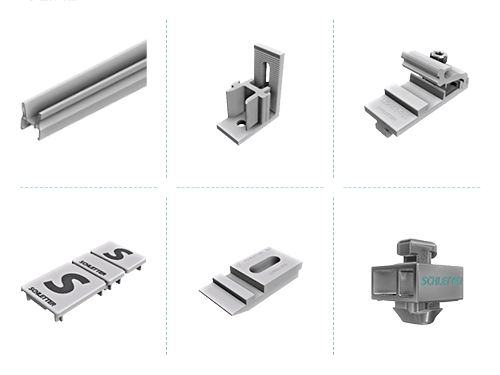 PROLINE
ACCESSORIES
Pro Connector: tool-free, self-locking slide-in connector
Rapid Pro L Adapter for ProLine and Schletter Classic rails
RapidCon90 cross-connector for ProLine and Classic rails
Rapid Pro cross-connector for ProLine and Classic rails
Pro plastic end cap: for ProLine module support profiles
Fix T-K Pro for pitched bitumen roofs on wooden formwork
KlickTop Pro Hanger Bolt Adapter: for ProLine and Classic module support profiles
Hanger bolt sets with cap profile: for ProLine support profiles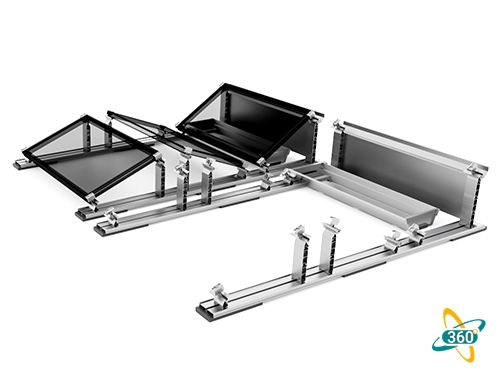 PROLINE
FixGrid Pro
Optimized and reduced ballast through improved aerodynamics
Flexible and time-saving planning and assembly
Compatible with ProLine series module clamps
Extensive variants can be realized with just a few components
Flexible adjustment to the desired angle of inclination
Modules can be mounted crosswise and upright
Module clamping on short or long module frame side
Product Catalog
Download Schletter's new product catalog for roof installations or order a free printed version.
PROLINE
FAQ
Which advantages does ProLine have towards Schletter's Classic system?
When developing the ProLine, we focused on saving weight and simplification - from planning and stock-keeping all the way to assembly on the construction site. For example, the ProLine mounting rails are lighter but also more resilient thanks to their improved geometry. The aluminium roof hooks are now fastened with a single screw. And with the module clamps, you will only have to decide on one colour in the future: black or silver. Finally, there are no longer different-sized clamps, just one end clamp and one middle clamp for all modules.
What is the timetable for the changeover?
Due to the many advantages of ProLine over our Classic rooftop systems, ProLine will become our primary rooftop system by January 2024 – by then, we will have doubled our production volume compared to 2023 with our new production plant in Türkiye.
How can distributors, installers, and users prepare for the changeover?
During product development, we made sure there would be a smooth transition: With a few exceptions, almost all ProLine components are downward compatible. You can combine a ProLine rail with all of our roof hooks made of aluminium or stainless steel and add a ProLine module clamp. In addition, we are increasingly offering webinars in which we explain the transition and the benefits of the new products.
Which flexibility does ProLine offer for pitched roofs?
Flexibility is particularly important in the development of solar mounting systems for pitched roofs. Whether it is parallel to the roof or elevated – with the variety of different types of pitched roofs, inclinations and roof coverings, a stable mounting must be guaranteed for the respective requirements. Likewise, the mounting materials must be adaptable according to need and application. Thanks to the comprehensive selection and the modular structure of the PV mounting systems by Schletter, a high-performance solar installation is possible on practically any pitched roof. The systems support the mounting of all PV modules available on the market. In addition, modular systems considerably simplify both the planning and the assembly. The Schletter development team has taken this into account and further optimized the modular system logic. Instead of different module supports depending on the angle of inclination, module size or occupancy type (upright or transverse), all variants can now be realized with only a few universally applicable components. Schletter's mounting solutions are particularly durable, highly loadable, and quickly installed. In addition, a static proof is always supplied for all roof systems.